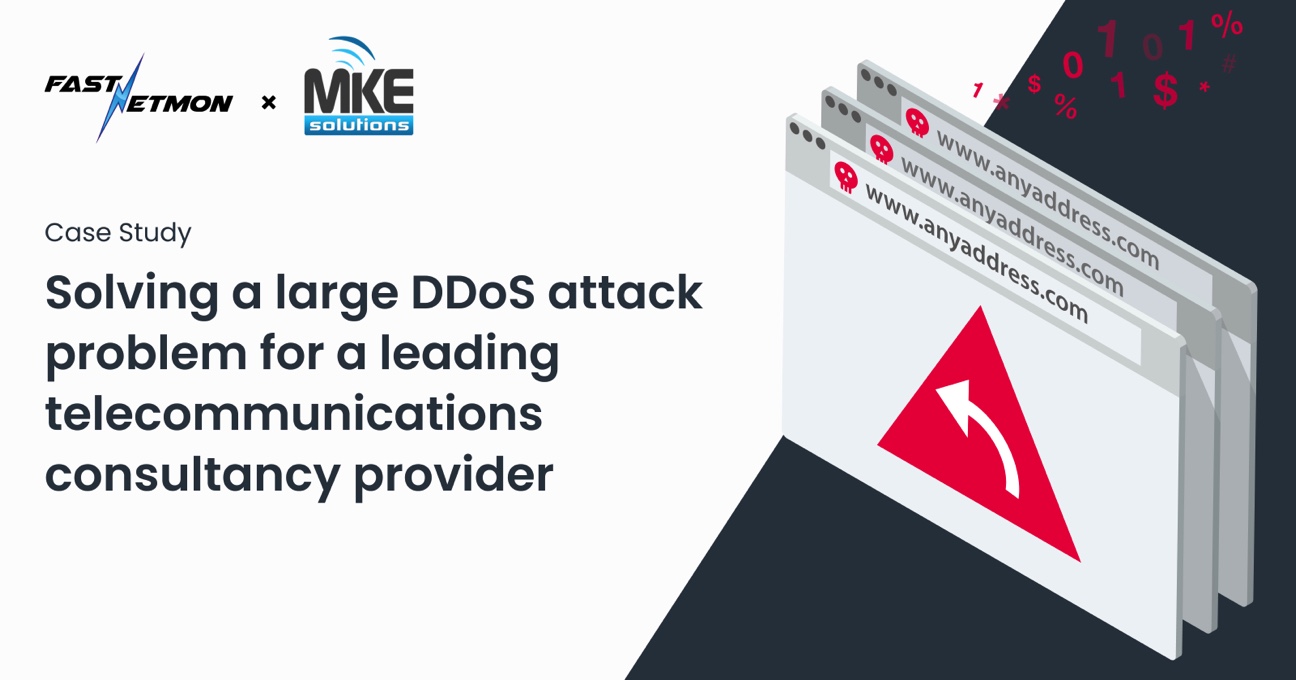 FastNetMon Stories: Here from real users of the FastNetMon solution
MKE Solutions, a leading telecommunications consultancy, turned to FastNetMon to address their critical problem of enduring 35 daily DDoS attacks. Find out how FastNetMon's flexibility and network visibility proved invaluable in combating the attacks while providing cost-effective network protection.
The user
MKE Solutions is a telecommunications consultancy that provides IT support to companies and internet service providers. With over 15 years of experience in the market, we have been able to establish ourselves as a leading company in our sector.
What problem were you looking to solve?
We first spoke with FastNetMon in 2018. We were looking for help with a gigantic problem, as our network received 35 daily DDoS attacks for a period that reached several weeks, interrupting the provision of services during the hours that the attack lasted.
Why did you choose to partner with FastnetMon? What are the main benefits?
The main benefit of FastNetMon is its flexibility. It can be implemented to protect us from DDos attacks while also providing excellent network traffic visibility, enabling us to identify traffic patterns and statistics of protocols, among other things.
A big draw towards FastNetMon was the added benefit of having the company's backing and direct access to their support team, which has been invaluable to us. Additionally, as a FastNetMon partner, we're proud to say that we've been able to tackle the issue of DDoS attacks on our networks effectively.
Why do you prefer to offer FastNetMon to your customers, rather than other competitors in the market?
Based on our experience, FastNetMon has been the solution that, in terms of cost-effectiveness, is one of the best options in the market. Other solutions have expensive costs and provide the same functionality as FastNetMon. Therefore, we can have network protection at a fraction of the cost of competitor solutions.
You created a new interface for the FastNetMon platform to share with your customers. What made you decide to do that? And what benefits has it provided to your customers?
When we started using FastNetMon, we noticed that some clients found the CLI mode complex when making configuration changes or adjustments. Additionally, fine-tuning certain functionalities required multiple configuration steps.
That's why we decided to assemble a software development team to create a web environment that could interact with FastNetMon via API. This enabled us to configure multiple configuration options with a single click.
The web interface evolved to offer full support for FastNetMon, as well as some additional functionalities. For example, it includes support for a MikroTik plugin, configuration for Scrubbing Center, auto-configuration of thresholds for host groups, and traffic reporting by different filters such as ASN, networks, etc.
Being in constant contact with Pavel, CTO of FastNetMon directly allows us to stay up-to-date with the latest FastNetMon updates and provide support for our web interface as soon as we hear the news.
Here's what one MKE Solutions customer had to say about the newly-built solution
I came across FastNetMon while searching for a solution to a massive problem. In 2018, our network was experiencing 35 attacks per day for several weeks, causing service interruptions during the duration of the attacks.
We initially installed and tested FastNetMon Community version and had excellent results. We immediately upgraded to the PRO version, which addressed the main issue. However, we felt that two important things were missing: a graphical interface and simplified management.
We made our first attempts to implement Grafana, and although the results were very good, we found that the implementation required prior knowledge of this type of environment. Additionally, when the network traffic was high, the server resource demand was significant, and we still hadn't solved the simplified management of FastNetMon.
That's when we discovered the Dashboard developed by MKE Solutions, which displayed graphs indicating the timing and magnitude of the attacks. It allowed us to have statistics and highly relevant information to make decisions. One significant advantage we noticed was that having such an intuitive and user-friendly graphical interface meant that advanced technical knowledge was no longer necessary for an operator. With just a few clicks, we could customise all the relevant parameters.
Today, FastNetMon, along with the Dashboard developed by MKE Solutions, is an essential part of our basic service infrastructure, as important as our DNS servers. It provides us with the peace of mind that our network will autonomously respond to an attack without the need for anyone's intervention.
David Vega, Chief Technology Officer, i-TIC
Want to keep your network safe? Try FastNetMon FREE for one month.